1.

What (and how many) works have you released? What are they about?
Awaken is my first novel that has been released. It is about a girl who wakes up dead (so to speak) and finds herself on another realm facing a new and challenging role.
2.

How did you get the idea for your work? What lured you to your topics?
The idea literally just appeared in my head one morning. I woke up, and the whole first half of the story was in my head begging to be written down. I didn't dream it, it just was there.
3.

What scene, topic, or section was the most intense (or visual) for you to write?
Without giving too much away, there were two really intense scenes that I had to write. The hardest was by far when Lucy has to retrieve a soul of a child who has died. I cried the whole time I wrote it.
4.

In the event that your book became a screenplay (or documentary), who would you like to see included in the casting?
I actually thought of this a lot. I have a friend who starts every story by creating her "cast" for inspiration. I didn't do this at first, but about half way through I did, and it really helped keep me motivated. I'll share it with you! (see attached)
5.

If you could meet anyone or see anything (characters, locations, events, abilities, creatures, etc) from your novel, who or what would you choose?
Haha, I think it would be Elizabeth. She was a blast to write. She was like a combination of Jillian from Biggest Loser and Simon Cowell.
As far as abilities, I would like to have Marco's, but just for a day. I think after that I would get a headache.
6.

How did you go about selecting your cover?
In writing, I can be very creative. Visually though, I'm incompetent. I didn't have a clue what I would want it to look like. I went to my cover artist, Elizabeth Sharp, and basically gave her free reign. The only thing I knew I didn't want a hunky guy with a girl in his arms. Instead, I wanted the people more in the background and a symbol as the predominant image. She did an amazing job and I absolutely love the cover!
7.

Do you have any upcoming projects? When can readers expect them?
I'm about half way though writing my second novel, a new YA series. I hope to have it finished and published by late spring. I'll post more about it as I progress on my website (

www.sarahmross.com

)
I also hope to have the sequel to Awaken out by late summer/early fall.
8.

Why did you become an author (or start writing)?
I always had stories in my head, heard characters talking to me. There would be many times in high school and college that I would turn the radio off in the car and just play out a scene in my head for entertainment. I started writing them down just after college, but never completed any. But with Awaken, the story flowed out so well there was no stopping it.
9.

What do you love the most about being an author?
Being an author is by far the best job I've ever had, even if it hasn't paid me yet. I love being able to work when an idea hits, whether that's at 4:30 in the morning or in the middle of dinner. I am really blessed to have a wonderful man who understands when I all of a sudden get a blank look, and then head to the office for hours.
10.

What or who inspires you to write?
I was a middle school teacher for eight years. I loved being able to introduce characters and books to kids and have them light up when they really get into a story. I hope that my writing one day does that for someone.
11.

What is the top cause you champion?
There are two things that I champion. The first is cancer research. I lost my grandfather, who raised me as his own, to cancer just after I graduated high school, and my younger sister is an ovarian cancer survivor. It is a cause near and dear to me.
The second is education and literacy. Being a teacher, I know firsthand how life changing education- or lack thereof- can be. I want to use my writing as a platform to help these causes.
12.

What advice do you have for anyone who is interested in becoming an author?
Write every day, no matter what. I read a quote by Stephen King once that keep posted in my office and I always refer back to. He said,
"If I don't write every day, the characters begin to stale off in my mind--they begin to seem like characters instead of real people. The tale's narrative cutting edge starts to rust and I begin to lose my hold on the story's plot and pace. Worst of all, the excitement of spinning something new begins to fade. The work starts to feel like work, and for most writers that is the smooch of death. Writing is at its best--always, always, always--when it is a kind of inspired play for the writer. I can write in cold blood if I have to, but I like it best when it's fresh and almost too hot to handle."
13.

What is the one thing your readers should know about you?
I would want my readers to know that I love to meet them and talk to them, whether on Facebook, Twitter, email, or real life. Don't be shy! Say hello!

I want them to know too that Awaken is just the beginning for me and I hope to give them lots of books and characters to fall in love with.
14.

If you could do anything (for a career), besides being a writer, what would do?
I would go back into teaching. It is such a hard job, but so rewarding to know you helped a kid learn.
15.

Aside from writing, what are your hobbies?
I love to read. I'm a very fast reader and last year read 158 books. I hope to hit 200 this year. I also love to travel. I've been all over the world and once you get that travel bug, the itch never goes away. I hope to visit Europe soon.
a.
…your favorite author?
Too many choices! YA I love JK Rowling, Suzanne Collins, and Becca Fitzpatrick
b.
…your favorite book or series?
I think all-time it has to be Harry Potter. They literally changed the world.
c.
…your biggest literary inspiration?
Amanda Hawking. Her story is so inspirational to me as a writer.
17.

Do you listen to music when you write? If so, what artists? If not, do you have other muses?
I can't listen to music or TV when I write. I need quiet to hear my character's voices.
18.

Is there anything that helps you write or is unique about your writing process?
I think for me, reading and watching TV help me write. I will be watching The Vampire Diaries and suddenly be struck with ideas. Mostly about Damon Salvatore, LOL.
19.

Which, if any, character do you feel has the most of your characteristics (behavioral or otherwise)?
I think I'm a combination of Lucy and Cassie.
Thank you for participating! I think most YA fans can understand a love of Damon Salvator -- and I agree, Amanda Hocking rocks! Thanks so much for sharing with us and visiting RR!
The Awaken Cast according to Sarah Ross: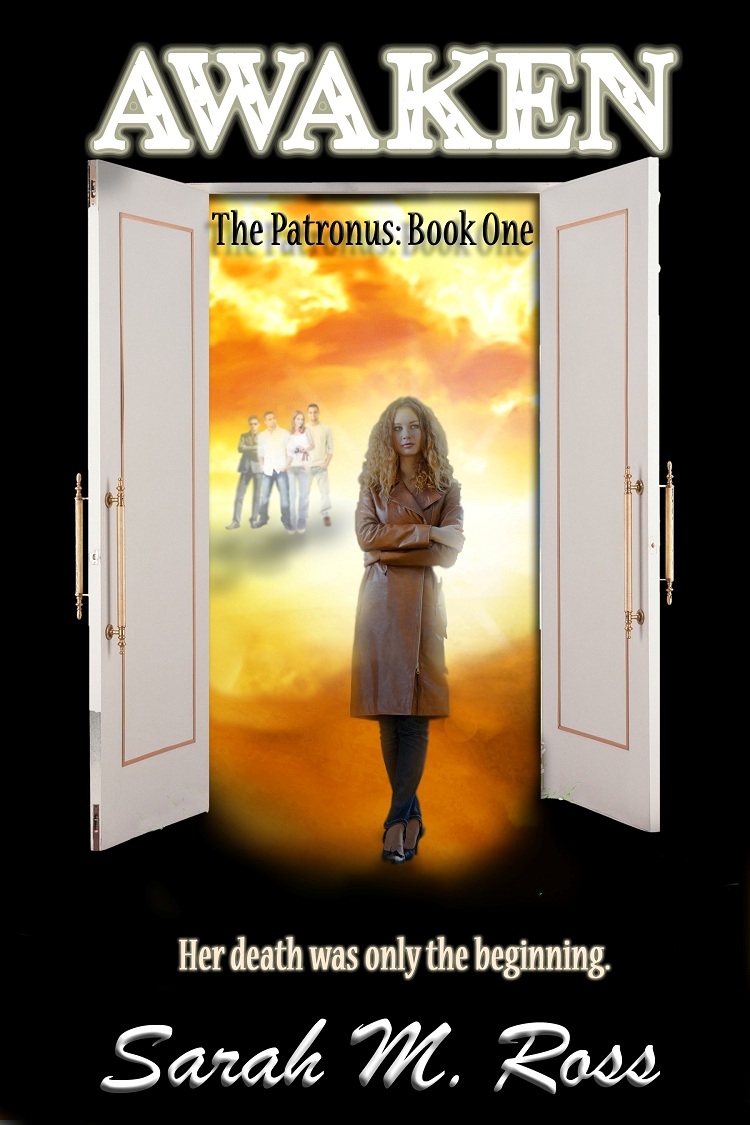 Title: Awaken
Series: The Patronus
Author: Sarah Ross
Publisher: 4 Corners Press
Format: ARC [eBook]
Description: Lucy Donovan was supposed to have a weekend of fun in the sun, celebrating her upcoming graduation from college. In a split second, everything changed. A drunk driver ended Lucy's mortal life. Lucy opens her eyes to a world she never imagined possible and a new destiny: as a Patronus, a guardian of spirits. Adjusting to her new role and abilities while negotiating this confusing realm will test her limits and push her further than she ever dreamed she would go. From wayward spirits who don't want her help to soul stealing vampires, and even a stuck-up British royal, Lucy must brave them all to save one spirit she can't bear to lose. Further complicating her confusing life is an inexplicable yet growing connection she feels to a member of her team, Max, whose mysterious behavior leaves her both confused and intrigued. Waking up dead was just the beginning of her problems. Lucy's death is about to become the greatest adventure of her life.
"There are things in this universe that exist, even if you don't believe in them."
Most people picture their death as a sudden nothingness, an arrival at a second Eden, floating through space, haunting the earth, or even roaming King's Cross Station with Dumbledore like in the final Harry Potter installment.
No one predicts awakening in a hospital room, having been brought back from the dead to increase eligibility to be inducted into an afterlife warrior-training program for soul protectors called the Patronus- all the while entering a complex system of protectors within a three-hundred head count division stationed in the world's coolest dormitory.
Poor Lucy didn't quite realize she was dead yet.
Understandably, that's going to take some getting used to. But when energetic roommate Cassie and the drop-dead gorgeous, mystery-man emotionally involved at her bedside beg her to embrace the honor… Lucy copes with the epic freak-out and trains - hard. Because she doesn't get to protect just anyone – someone very close has passed in her absence, and it's her turn to fight.
This book… OMG, this book.
The plot is brilliantly crafted, the world building is ingenious. The reader understands the world as the character earns about it, and it totally avoids stumbling through awkward flash-backs to understand and fall into the story. The voice grips the reader immediately. It opens with a sense of being grounded to the setting and manages to embrace the natural disorientation of the scene simultaneously. Initially exploring the combined beginning concepts of Lovely Bones by Alice Seybold and Across the Universe by Beth Revise, the story is immediately alluring and enrapturing. With a strong, underlying intelligence woven within the text but an undeniable youth that will still relate to YA readers, the main character is interesting but relatable. Lucy is quirky and funny but also likeable and serious. She embraces and makes the best of her situation, even when it hurts, but unlike so many other heroines, she reacts and responds rationally and realistically. She asks questions. She's not looking to get burned. This girl is a real, tangible being – even if she's purely a soul.
The characters are fierce, clever, lovable, and hilarious. Lucy's afterlife BFF Cassie, her brother-figure mentors of Adam and James, and swoon-worthy love interest Max are all beyond worthy of vicarious-reader-envy. Plus, any novel that can bring iconic inspirations literally back from the dead AND do them justice (as well as, for the first time in what feels like an eternity, allow romanticized vampires and beloved werewolves to be all bad guys) deserves eternal applause.
The amazing well-written lore is bold and unique, and I've never read anything quite like it. It's a whole new take on immortality and realms. Clever plays on and references to pop culture and history describe, ground, and create this other-world. Fans of vampires, angels, and demons will eat this up. It's as dark as death, as light as an afterlife, and as pure as the true, first, eternal, fated love. This is not a triangle, this isn't a broody vamp, this is fate– an entirely different paranormal romance – and I love it!
Heart-pounding action, insane conflict, and an explosive epiphany the moment before more action detonates with a bang – the reader is left hungry for more.
This suprisingly quick read is memorable. It makes you think about it afterwards - to contemplate, explore creativity.
It's the kind of book that contributes to my ever-happy bookie fangirldom - even when the piece is darker -- not all rainbows and sunshine. I knew from the beginning it had become a favorite.
I'm most definitely going to be following the series.
I recommend this for fans of Fate Fixed by Bonnie Erina Wheeler, Wanderloveby Belle Malory, Warriors of the Crossby T. R. Graves, The Vampire Academy Series by Rachel Meade, The Red Sector Chronicles by Krystal Jones, Paranormalcyby Kirsten White, and Dead Like Me (TV).
Highly, highly recommended! :)
Where to Find Sarah Ross: